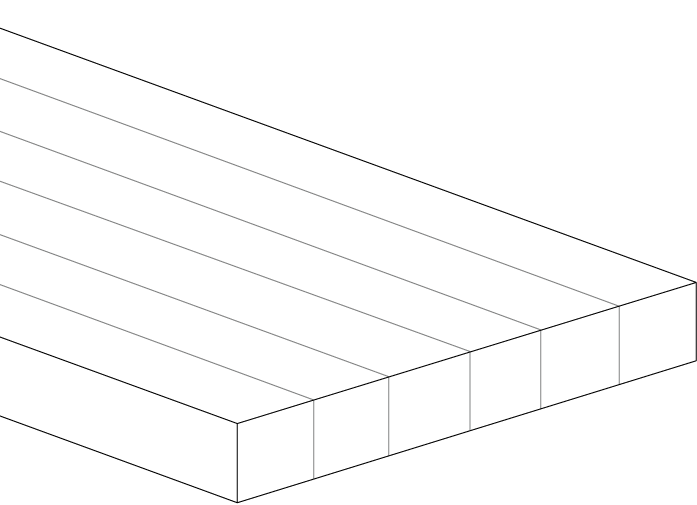 Picea abies, tree of Pinaceae family
Coniferous soft wood, often called whitewood, is one of the most commonly used. It is white or white/yellow in colour with clear grains, with a medium texture and regular fibre.
Average volumic mass:
450 kg per m3.
Solid-Wood Laminated Panel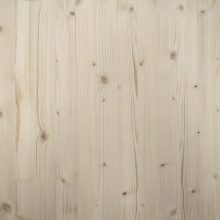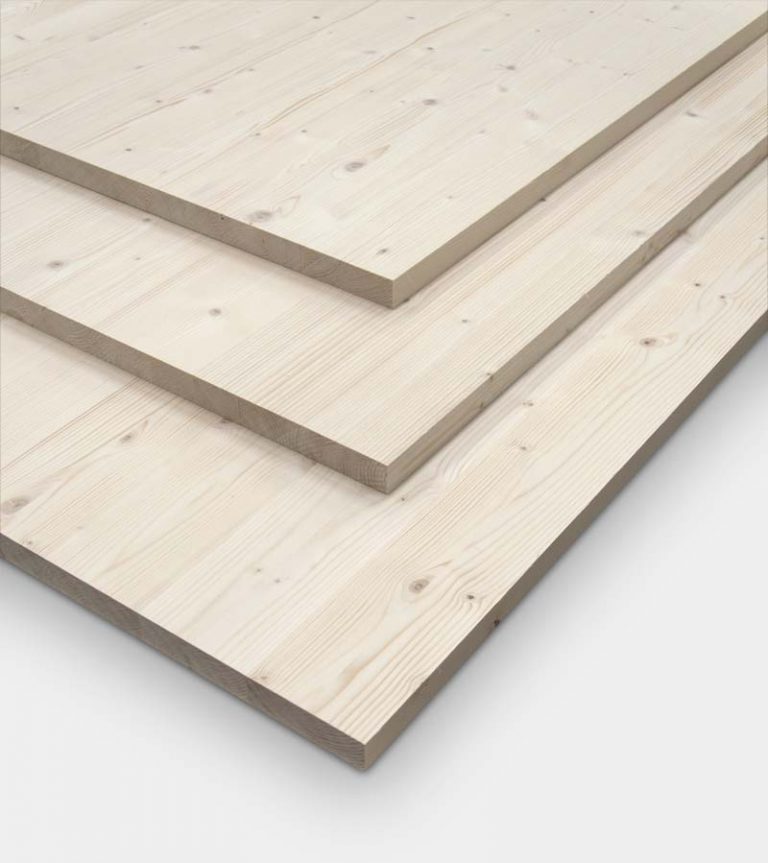 DIMENSIONS AND TECHNICAL FEATURES
Wood species:
Austrian or Scandinavian Spruce with knots.

Lamellas width:
from 40 to 60 mm.
Panel structure:
one-length and one-width lamellas.
Panel size:
standard length 4000 mm, on request from 3000
to 5080 mm
width 1220 mm.
Thickness:
from 7 mm to 50 mm.
Moisture content:
about 10% ± 2 on the beginning, mechanically obtained.
Gluing:
D/3 vinyl glue, without adding of harmful substances, with a low environmental impact, compliance with European Norm in force (DIN EN 204).
Formaldehyde emission class:
in accordance with the requirements of E1 class
Calibrate / Sand:
Both sides, grain 100.
Thickness*
mm
Grade
A
Grade
AB
Grade
B
Grade
C**
7
•
 •
8
•
 •
10
•
 •
14
•
 •
 •
18
•
 •
 •
20
•
 •
24
•
 •
27
•
 •
32
•
 •
40
•
 •
*special thicknesses available on request : 12, 15, 22, 35, 38, 50 mm.
**according to stock availability.
Classifications refer to the quality features of one panel face
Grade A:
sound material, tight knots, no discolourations, isolated traces of pith allowed, small resin pockets repaired with natural wood dowels, gluing without defects. Some natural knot dowels
accepted and small fillings allowed.
Grade B:
sound material, tight knots, pith and small resin pockets allowed, larger resins (40/50 mm) are dowelled, knot repairs with natural wood dowels accepted, small fillings allowed, gluing without defects.
Grade C:
material without particular requisites, presence of knots without particular limits in diameter, no through holes, possible pink stains and/or blue stains (falling knots and through holes are allowed on thicknesses up to 10 mm).